The BBC Antiques Roadshow firearms and militaria specialist Bill Harriman was reunited with former comrades in the South Nottinghamshire Hussars when he answered questions about exhibits at the first special event for Friends of the Museum. As a former officer with The South Nottinghamshire Hussars and the Sherwood Rangers, Bill was guest of honour, and gave his view on exhibits from the three regimental collections, including swords, pistols and muskets.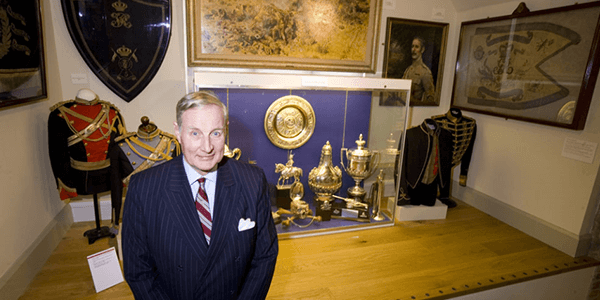 Become a Friend
Please consider becoming a Friend of the Museum. Many from both military and civilian backgrounds have already joined. As a Friend of The Royal Lancers and Nottinghamshire Yeomanry Museum you are invited to special events like the evening with Bill Harriman, receive a half yearly newsletter and guided tours of the Museum, and qualify for a 10% discount on purchases in the Museum shop. A small annual subscription helps with the costs of maintaining our unique collection of arms, uniforms, medals, silver and paintings.
The annual subscription is at your discretion but we suggest £15 for individual members and £25 for joint members.
A life membership is available for a single payment of £500.
Your support will help ensure the future of our museum.