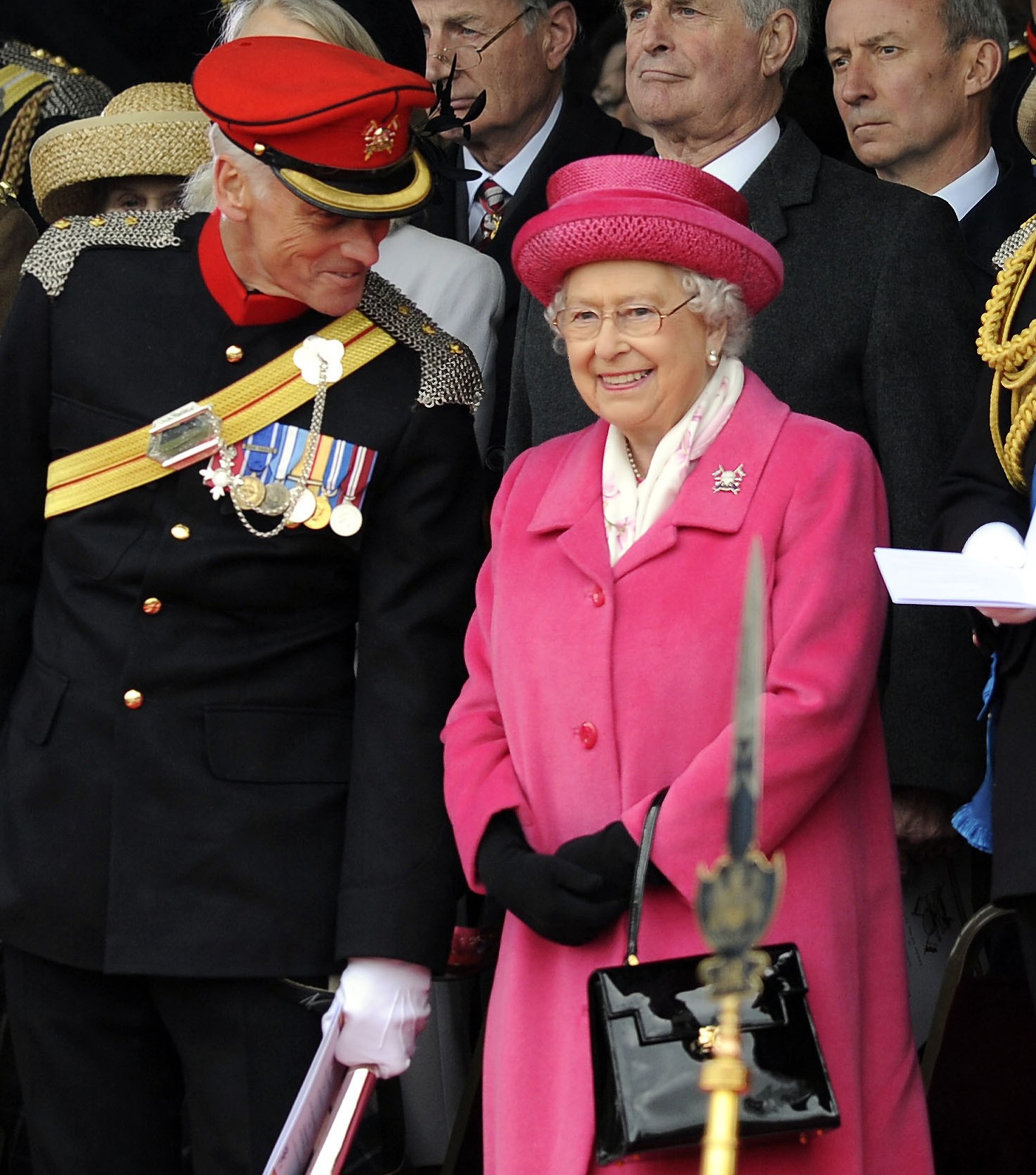 Amalgamation Parade
2nd May 2015
On 2nd May 2015 The Queen's Royal Lancers amalgamated with The 9th/12th Royal Lancers at Richmond Castle to form a new regiment: the Royal Lancers
The image above shows the Colonel-in-Chief, Her Majesty The Queen, at the Amalgamation Parade, with Brigadier Andrew Hughes (Colonel of the Regiment) in attendance.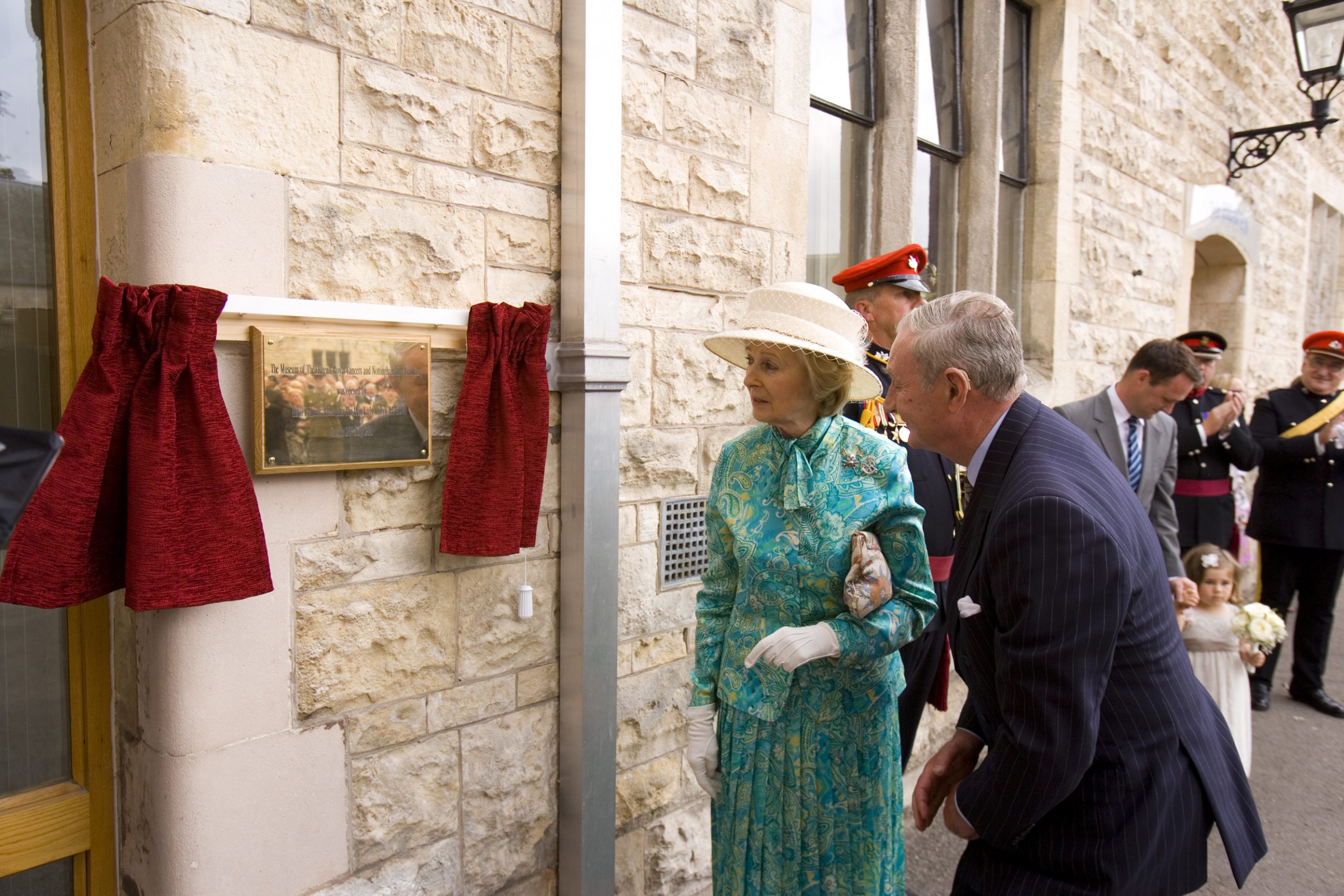 The 10th Anniversary of the Museum opening at Thoresby
26th July 2021
The museum was opened by HRH Princess Alexandra on Tuesday 26th July 2011, and marked the beginning of the  partnership between the Royal Lancers and the Nottinghamshire Yeomanry – the Sherwood Rangers and the South Notts Hussars.
Since then over 290,000 visitors have toured this fascinating new display.
The museum tells the story of cavalry in the British Army, from the days of the horseback charge, through the great tank battles of the Second World War, to present-day operations in Iraq and Afghanistan.
A series of graphic panels and display cases, learning zones and video presentations, take visitors through our fascinating story.
Entry to the museum is free.
Establishing our new museum at Thoresby was made possible by a partnership with the Stonebridge Trust, which provided space in the Courtyard and contributed to the capital costs, the Leader Project, which provides European funds for rural regeneration, and the Heritage Lottery Fund. The project is also supported by Friends of the Museum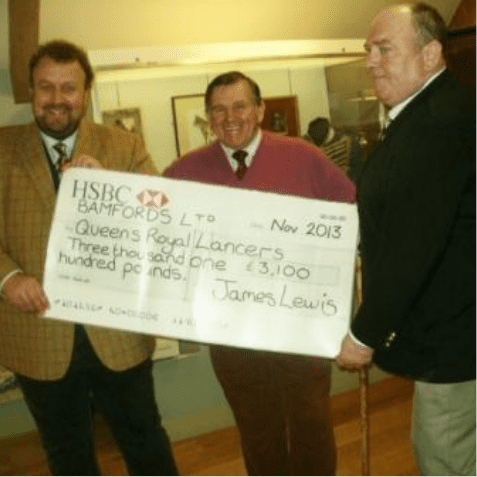 Visit of James Lewis
18th November 2013
Mr James Lewis, a well-known specialist from the BBC's antiques show (Put your money where your mouth is) visited The Queen's Royal Lancers & Nottingham Yeomanry Museum to present a cheque for £3,100 to The Queen's Royal Lancers Regimental Association charity.
Mr Lewis was contacted in May by QRL veteran Mr Stefan Kelsall, who informed him how much pleasure he gets from watching the shows, and requested him to consider the Regimental Benevolent Fund as one of his charities. Mr Lewis, along with his mother and father, presented the cheque, which was accepted on behalf of QRL by the Assistant Regimental Secretary, Capt Mick Holtby, and Mr Kelsall.